The Tennessee Academy of Science Eastern Collegiate Division meeting was held on April 20, 2018 on the campus of Pellissippi State Community College with awards as follows:

First Place – Marine Biodiversity Monitoring of the Pelagos Sanctuary in the Mediterranean Sea. Meghan Sutton*, Michael Freake, Jonathon Cornett, Paola Tepisch, Aurelie Moulins, Bryan Poole, Lee University, Cleveland, Tennessee (MS, MF, JC, BP), CIMA Research Foundation, Savona, Italy (PT, AM).

Second Place- Investigating the effect of statins on the regulation of the hepatic organic transporter OATP1B3. Damilola Oluwalana* and Steve Wright, Carson-Newman University, Jefferson City, Tennessee.

Third Place- Promotion of sustainability initiatives on Pellissippi State's Hardin Valley campus by documenting and understanding recycling habits of the campus population. Ryan Sharpe* and Brad Moats. Pellissippi State Community College, Knoxville, TN.


Honorable Mentions (in alphabetical order)

Soil Sample Analysis of Cuba's Oldest Tobacco Farm - Finca El Pinar Robaina. Erin Guy* and Saeed Rahmanian, Roane State Community College.

Prevalence of Ophidiomyces ophiodiicola in eastern Tennessee snake populations: Is it a cause for concern? Cullen T. Harris*, Team Salamander and Thomas P. Wilson, The University of Tennessee at Chattanooga, Chattanooga, Tennessee.

Prevalence of lineage formation in the raccoon, Procyon lotor, over space and time in varied habitats in Southwestern Tennessee. Jillian P. Sturtevant*, Evelyn Chukwurah, John R. Hisey, Michael L. Kennedy, Brian D. Carver, Lee University, Cleveland, Tennessee (JPS, JRH), University of South Carolina, Columbia, South Carolina (EC), University of Memphis, Memphis, Tennessee (MLK), Tennessee Tech University, Cookeville, Tennessee (BDC).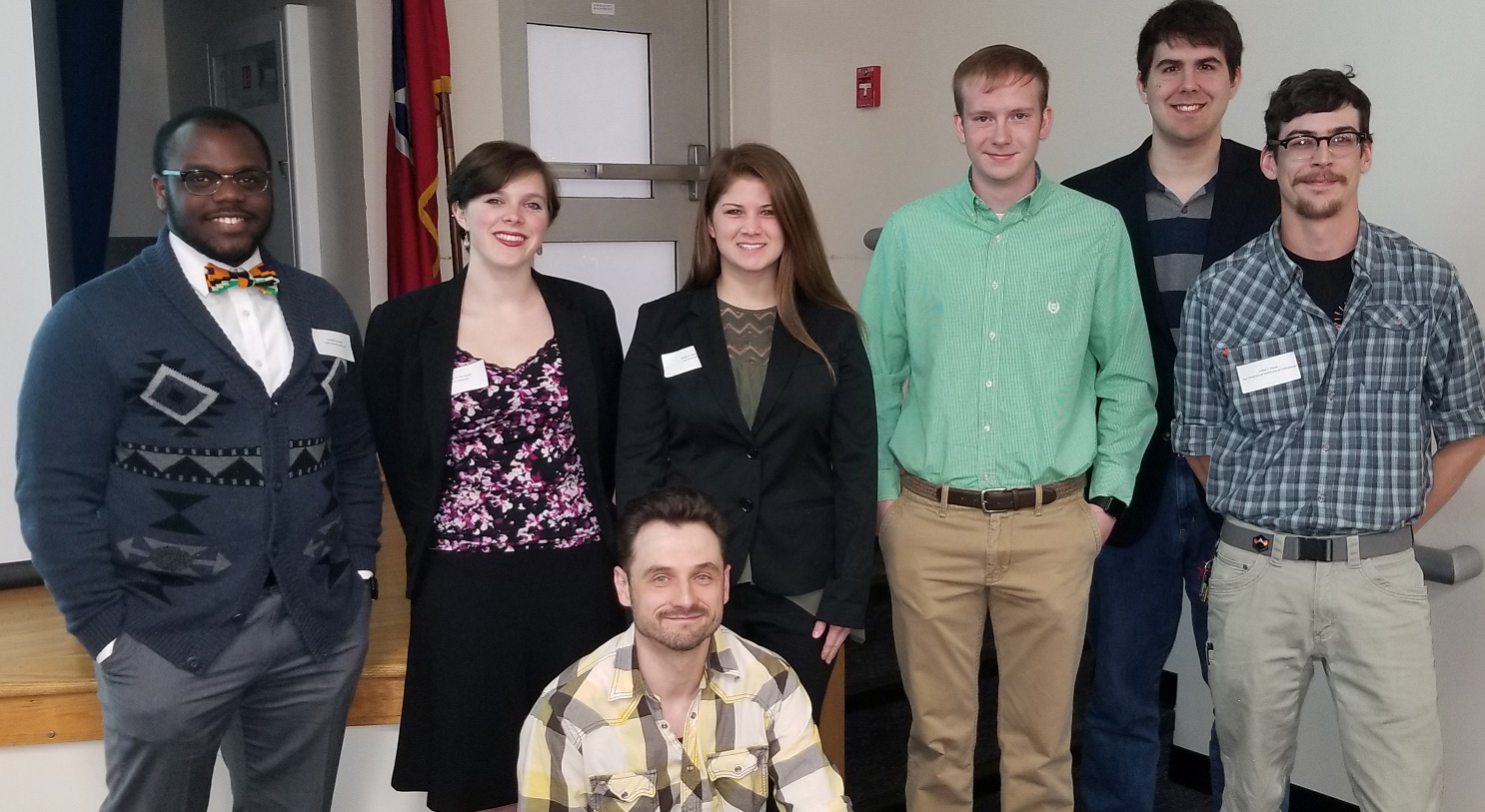 Undergraduate researchers are welcome to give a 12 min Powerpoint presentation in biology, chemistry, computer science, ecology, engineering, environmental sciences, geography, geology, mathematics, physics, bio-engineering or psychology. Please utilize the TAS Fall 2013 abstract submission template. Please indicate the topic/discipline in your email subject line to facilitate the organization of sections. Abstracts that do not follow the template will be returned to sender for correction.
Abstracts: Due by Monday April 4, 2016
Please contact Teresa Fulcher (865-539-7048) for more information.
1:00 - 1:30: Check in and light refreshments - Alexander Building
1:30 - 4:30: Student Presentations - Alexander building
4:30 - 6:00: Awards and casual buffet dinner - Goins Building Dining Hall
Pellissippi State Community College 10915 Hardin Valley Road, Knoxville, TN 37933.
For directions and a campus map, visit here
Contact Teresa Fulcher (865-539-7048) with any questions or concerns regarding the meeting.